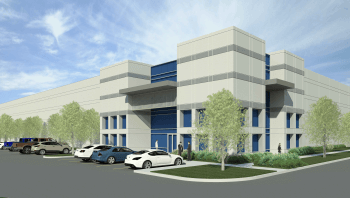 F. Greek Development, a leading full-service industrial real estate company, announced today that they have been awarded a contract to construct two speculative warehouses for Clarion Partners' Burlington Industrial Park, located in Burlington NJ. When completed, the total park will be 1,690,000 square feet. Set to break ground mid April 2015, the Class-A industrial property is scheduled for completion by the end of 2016.
"We're seeing continued interest and activity from companies that contract with us to construct Class-A warehousing," said Matthew Schlindwein, F. Greek Development Vice President of Development, "When a nationally-recognized commercial investment company like Clarion Partners, contracts with us to build, they know that they will get a consistent, high-quality product in a park that can accommodate both their short-term and longer term growth."
Located at the intersection of Neck Road and River Road, FGD will construct a 476,950 square-foot facility and a 172,000 square-foot building within the industrial park. Enhancing the full function of the property, the building design and construction by FGD will feature insulated tilt-up construction, large bay spacing, deep truck courts, ESFR sprinkler systems and trailer parking.
"FGD continues its promise to build long-term value in all that we do," added Schlindwein. "These warehouses will be two of the first high-quality warehouses in the park and will benefit prospective tenants and the County of Burlington. The park is situated strategically at the apex of where the New Jersey Turnpike and the Pennsylvania Turnpike meet, this site is unique in its accessibility to both the Philadelphia and New York Metropolitan Markets."